After the floods: how tourism in the Lakes and York hopes to recover
Posted in
Travel n Tour
•
4 days ago
• Written by
rockingpritamsaha
•
Comments Off

on After the floods: how tourism in the Lakes and York hopes to recover
When the Lady Dorothy set off from Glenridding pier on Thursday morning, gliding across Ullswater beneath a panorama of snow-topped fells, it marked another small triumph for an industry striving to recover from December's floods. One of the best-known attractions in Lakeland, Ullswater Steamers' fleet of vintage pleasure boats had been out of action since 5 December, when the burst Glenridding Beck engulfed its pier house and car park with boulder-strewn flood water. Thursday's resumption of services was a sign that business in Glenridding – the tourist hub that made national headlines by being flooded twice in five days – was getting back to normal.
The steamer called in at Pooley Bridge on Ullswater's north-western shore, which had its own reasons to celebrate this week. It was announced that a temporary bridge would be erected before Easter to replace the 300-year-old road bridge washed away by the unprecedented force of the swollen river Eamont. The collapse of the bridge almost marooned the village centre, cutting off its usually thriving tea rooms, pubs and gift shops from mainstream Lakes' traffic. More worryingly for the county's wider tourism sector, shocking images of the bridge's crumbled remains are still dominating news reports about the damage inflicted on Cumbria by Storm Desmond.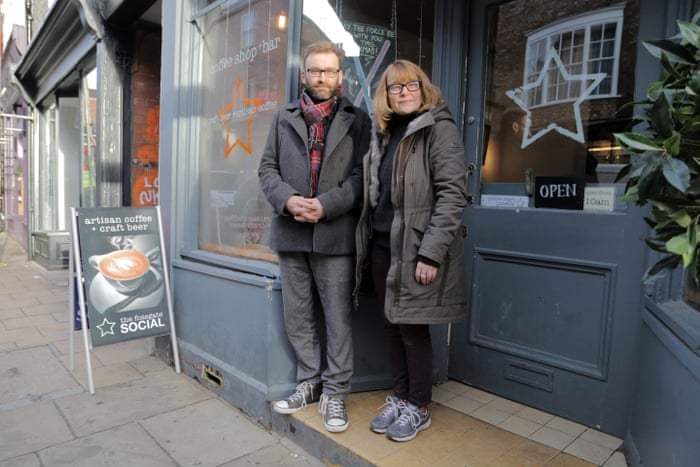 "The misconception that we have all been devastated is starting to hurt us," says Gary Wilson, general manager of the Inn on the Lake hotel at Glenridding. "I've never known a quieter January. Yet the main road through Glenridding is open, as are most of the footpaths and almost all of our businesses. Even the village shop, which had three feet of water through it, has reopened."
Wilson's observations are echoed by the tourist board, which estimates a drop in visitors that is disproportionate to actual flood damage. "Of about 10,000 visitor-dependent businesses in the county, about 100 were badly affected by flooding," says Ian Stephens, managing director of Cumbria Tourism. "Of these, we think that approximately 30 to 50 businesses will not be operating at Easter. But we're hearing from our members that they are down 25%-50% on visitor numbers. If that continues into the spring it could amount to lost revenue of £40m a month."
With funding from the Cumbria Local Enterprise Partnership, Cumbria Tourism has embarked on a short-term print and digital marketing campaign to reassure potential visitors that the county is back in business and doing what it does best. Meanwhile, locals have taken matters into their own hands by organising theGrand Day Out on 16 January, a county-wide fundraising day of walks, music and sports events aimed at raising money for Mountain Rescue Services and theCumbria Community Foundation.
In market towns such as Keswick, Cockermouth, Kendal and Appleby-in-Westmorland, you can still potter round independent shops and duck into a cosy pub or tea room. Meanwhile, businesses that were directly affected are working flat out to restore their facilities. Gillian Hodgson and her husband, Douglas, co-owners of the Keswick Launch passenger boats on Derwentwater, are repairing six damaged jetties and their ticket office on the Keswick foreshore.
"It looked like a tsunami had gone through it, but we are aiming to be up and running by February half-term," Gillian says. Sally Fielding, owner of holiday lettings agency Sally's Cottages, says that only 20 of her 338 properties were flooded. All are expected to be back in business by Easter, and reservations look healthy. "Nobody's moved the mountains," says Fielding. "This week I've been posting beautiful pictures of snowy fells on social media; bookings are starting to pick up."
Determined optimism can't rebuild bridges, however. And with 15 roads and 26 road bridges still closed, some parts of Cumbria face infrastructure challenges. Businesses cut off by the closure of Eamont bridge near Penrith, for example, are still in limbo. "It's been like a ghost town," says potter Mary Chappelhow of the artists' studios at Brougham Hall, where her fellow tenants include a photography studio, art gallery, mosaic maker, microbrewery and cafe. "We're still open seven days a week, but the road diversions put people off."
Close by, at Lowther Castle and Gardens, ticket sales are down by 50%. "There's a worry that holidaymakers are cancelling their bookings because they think Cumbria is closed," says marketing co-ordinator Anna Saczek, although she notes strong local support from the Penrith and Eden Valley community. "People can still get around – they just have to take the scenic route."
The scenic route isn't really an option in the central Lake District, where the closure of the A591 has virtually cut the national park in two. Recently voted one of the UK's best driving roads, by Avis, for its picturesque course along the edge of Thirlmere reservoir, it has been damaged by landslides – one spot north of Grasmere was almost washed away. The impact in that honeypot village, which usually swarms with daytrippers and coach tours stopping off between Keswick and Ambleside, has been brutal. "Business is down by 50%-60% and we have already started making redundancies," says Andrew Hunter, co-owner of Grasmere Gingerbread, who points out that this week's assurance by the transport secretary Patrick McLoughlin that the road is set to reopen by the end of Maycomes with no cast-iron guarantees. Once summer gets into full swing, he adds, the cost to the local tourism sector could reach £100m for every month the road remains closed.